Email communication is an integral part of our daily work lives – whether you run your own business or are an employee, you probably send and receive countless emails every day, sometimes via different accounts. Despite chat, messengers, SMS and other communication tools being more popular in our personal lives, email is still holding its own, seeing as it can work cross-platform no matter what email service you use or which email app you have.
Bigger companies will commonly use Microsoft Outlook, but is it really the best choice? Or is it just because it's been on the market so long that everyone is just used to it? We'd like to help you answer this question in this article by showing you what eM Client's advantages are compared to Microsoft Outlook and how to easily change your default email client!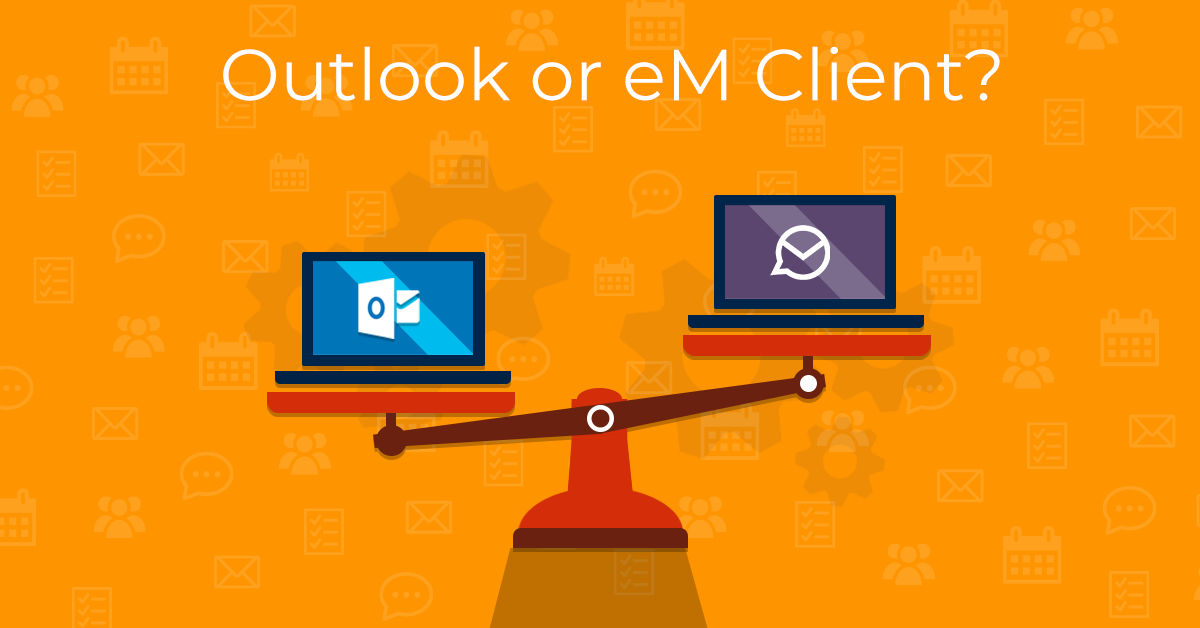 How is eM Client better than Outlook?
What are the real advantages of eM Client compared to Outlook and is it worth the hassle to migrate all your data and get used to a new app? Let's take a look at the specifics:
eM Client is fast
All operations are executed quickly, as each feature in eM Client is designed to work with the others – we do not use any external plugins or code that would clash with ours. All external tools for other services (such as Cloud storage, Online meeting providers, etc.) are fully integrated so the program works with them seamlessly. With eM Client you will not experience long wait times and hang-ups (where the "program stopped responding", making the program unusable for long periods of time) when specific features or emails are being loaded.
All this saves time that can be used to finish your work faster!
eM Client is easy to set up
Setting up new accounts takes just a few clicks with the Automatic setup which looks up your email service's recommended settings and connects any other available services like Calendar and Contacts if they are detected.
There is also a number of import options from other email clients on your device (MS Outlook, Thunderbird, Incredimail, Windows Live Mail and others) as well as from specific files (.eml, .pst, .mbox, .ics, .csv, .vcf,…).
eM Client is more stable
Microsoft Outlook has been well known for its instability for years, be it the app itself (frequent crashes after which you need to repair Outlook ) or the data storage, which often ends up corrupted at best or with complete data loss at worst. This is caused by the outdated PST file format, which Microsoft refuses to let go of because of compatibility with older versions and devices.
eM Client's data storage is based on a modern and fast SQLite database engine, which – even when your device shuts down unexpectedly, causing the program to crash or other problems pop up – can repair itself with the integrated database repair tool.
eM Client can work with more data
Thanks to the mentioned SQLite database, eM Client can store unlimited amount of data. Outlook can store around 10 GB before the program starts slowing down and eventually collapse when trying to list or search in all its stored emails.
eM Client users reported being able to use mailboxes with over 200 GB and still getting reasonable response times when looking something up. This also means you can always access your full message history.
eM Client is more intuitive
eM Client is designed to show only those features that you actually need and use daily, utilizing telemetry and feedback from our existing users to make improvements. You can of course add or remove buttons for specific features if you do need them (simply right-click the toolbar and use the Customize option). This makes the interface easier to navigate compared to Outlook with its hundreds of buttons you need to make sense of just to find the one for 'Send email'.
eM Client is customizable
As mentioned, you can add and remove buttons in the toolbars and that is not the only thing you can change. You can also customize the position of the message detail and the message list, use a compact or single-line layout to show more or less columns with information, decide what sections you'll have available and in which order they'll be in the left pane and right sidebar and more.
You can also choose from a selection of colorful themes in Menu > Settings > Appearance > Themes and even make your own using the Theme editor in Menu > Tools, making eM Client truly your own.
eM Client is more secure
While Outlook supports S/MIME message encryption and signatures, eM Client also allows PGP, including creating your own keys to use these features.
We also provide eM Keybook service which can be used to upload and download public keys to send encrypted emails to others, as well as support lookup on ProtonMail and keys.openpgp.org services. You can find out more about email encryption and how to use it here.
eM Client is also actively developed to always use the most secure connections and authentication methods, so if your server uses more than one option, the more secure one is chosen first.
eM Client is modern
eM Client does not only upkeep the same old features as Outlook, but we actively make sure to add new ones in new versions, like contact avatars and preview in message list, account avatars to see which message belongs in which email account, Undo send, Snooze email for later, Watch for reply, notes for emails, tracking pixel detection, instant message translation, integration with online meeting providers (Webex by Cisco, Google Meet, MS Teams, Zoom and others) and Cloud storage support for attachments (Dropbox, OneDrive, Google Drive, ownCloud and Nextcloud).
eM Client is most compatible
eM Client has the widest support for IMAP servers on the market, including a number of extensions, which MS Outlook does not even attempt to add, as well as being able to synchronize data for Exchange and Office365 servers.
It fully integrates with Gmail services, including email, calendar, tasks, synchronized signatures, automatic reply, filters and labels – not to mention you can use Google Meet for online meetings, Google drive for your attachments!
If you use other server solutions you can also connect your contacts and calendars via CardDAV/CalDAV.
eM Client is consistent
Microsoft Outlook has a completely different design for each platform, some features are available only on specific devices and the behaviors are not always the same. But there is just ONE eM Client.

The interface is almost the same and works consistently for both Windows and macOS, so if you switch devices, you find the functions you need easily. The same is planned for the upcoming Android and iOS apps later this year.
Summary
Outlook is often used in many companies just because it has formerly been the only option and everyone learned to live with the crowded interface, never-ending crashes and PST file management. But that should not be the deciding factor – there are many other competitive choices that can improve your workflow and eM Client is one of its strongest contenders.
When you install eM Client for the first time, a free 30-day trial will be activated, which gives you the option to try out all its features without any need to pay or register anything.
Switching over from Microsoft Outlook can also be incredibly easy, as eM Client has a native import option to get data directly from the Microsoft Outlook app or PST files in Menu > File > Import, giving you the option to import not only the emails, but full accounts, folders, contacts and even some rules! So you can copy your data over in few clicks and compare the programs during your free trial.
And if you have any questions, don't hesitate to reach out to [email protected]
New to eM Client?
Try it out! It's free and fabulous.
If you're ready for more, buy the PRO license and enjoy:
And in the meantime, check out our YouTube channel for how-to videos.